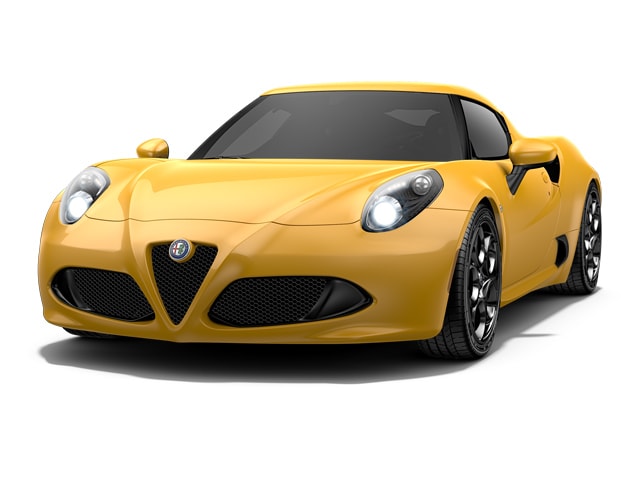 If you are not sure if you are looking at a vehicle or a work of art, you are probably looking at an Alfa Romeo. Building beautiful cars since 1910, the Alfa is more than just a vessel to get you from A to B. Designed and assembled to inspire the driver in you, you can expect attention to detail and an enduring build quality. The Alfa Romeo Dealer near Glenside, PA, has a range of vehicles in stock that will impress you with their beauty and engineering. Once you have experienced an Alfa at Thompson Alfa Romeo, everything else will pale into insignificance.
Alfa Romeo 4C Coupe Near Glenside, PA
Growing up, the Alfa Romeo 4C Near Glenside, PA, is what dreams were made of. Classic sports car styling, modern chassis engineering and the build quality that you expect from an Italian brand. Don't spend another minute driving a car that doesn't inspire your every move. The 4C Coupe is every inch a driver's car. You will love the multi-mode control, dual clutch transmission with launch control and carbon fiber monocoque. Add a performance, turbocharged 4-cylinder to get you going and premium braking to ensure that corners and complete stops happen exactly where you want them to. The time has come for you to drive the dream and Thompson Alfa Romeo have it in stock and ready to go.
Alfa Romeo Giulia Near Glenside, PA
In the lineup of sports sedans, the Alfa Romeo Giulia Near Glenside, PA, has a pedigree that the others can only wish for. Looking at this vehicle, you can see the racing heritage seamlessly merging with the quality Italian craftsmanship. Avante-garde engineering ensures that this vehicle is up to the task of modern motoring, whilst retaining the character and elegance that is distinctly Alfa. Choosing between the two model will be the hardest part of your purchase at Thompson Alfa Romeo.